Jul 28, 2013 ♥ Filed under: starbucks, starbucks city tumbler, city tumbler, tumbler, seoul, seoul starbucks, starbucks seoul tumbler, seoul tumbler, korea tumbler, korea, starbucks korea tumbler,
Starbucks offers a wide range of City Tumblers as we all know.. We are familiar with their city tumblers such as Manila, London, Paris, Milan etc.. So why should we miss Seoul?? 
I was hoping that Busan has one too.. But I'm pretty sure that they have.
The next time you go to Korea, you should go grab one of this cute city tumblers from starbucks.. 
There's also one which has "korea" if you wanna be in general.. lol
Now you know what to do the next time you visit korea!! you need to add getting em before you leave.. 
Jul 6, 2013 ♥ Filed under: Sill Garden Restaurant, Don Antonio, Commonwealth, Korean Restaurant in Commonwealth, Korean Restaurant in Don Antonio, Korean Restaurant, Samgyeopsal, Soju, Korean Appetizers, Restaurants, Korean overload, korean food trip,
Yesterday, I invited my trainer Miguel and our friend Raffy to go try some korean restaurants near their place.. They just both live along Commonwealth so I've figured out why not try those korean restaurants nearby instead of going to Ortigas, Makati Ave or Malate for a change.. 
So yeah, we went to Silla Garden Restaurant. It's located on the 2nd floor of this bldg which is just across Petron Gas Station.. I think the best landmark I could give is BPI bank and Petron Gas Station. lol 
So let the review start!!! 
Ambiance: 7/10.. They still have to improve the "korean feel" kind of environment. It was also kinda hot. :((
Food: 8/10… I was glad that it was authentic. However, the appetizers were few. But what's nice is that, you could ask for more.. Like when you run out of kimchi because your pal ate it all, you can still go ask for more.. We've ordered Samgyeopsal and Jjampong. The servings were enough for us three and there's too much leftovers.. haha I also enjoyed the cooking part! As for the taste, I can't give it a 10/10 because it was not consistent. The red bean paste was also salty and I can't taste jjampong that much. But they've got fresh seafoods for jjampong.. 
Price: It's too pricey if you would compare it to Yedang or Jang Ga Nae.. I think their bibimbap costs 400php something. But their beef/pork is kinda cheaper.. I've paid 1,100php for the 2 orders of samgyeopsal and 1 order of jjampong and add a bottle of soju!! 
Note: everything was just based on my own opinion. What i've said could differ from what you're gonna say. Since this is a review, I can say what i have to say without being biased or what
Jul 5, 2013 ♥ Filed under: korean cellphone charms, cellphone charms, bling-bling, phone, korean, korea, hallyu, cute korean, cute korean charms, cute korean cellphone, online shopping,
Cellphone charms could take time whenever we do shop for them..
That piece of cellphone bling bling also defines us like if we choose an apple charm, it would give others an impression like: oh she likes apples or she likes color red.. Then, if we choose something girly they would say: wow maybe she's cute, bubbly etc..
Since I was bored, I searched for some korean cellphone charms I could see on the net and I came up with this:
Note: these photos aren't mine.. Thanks to google image search..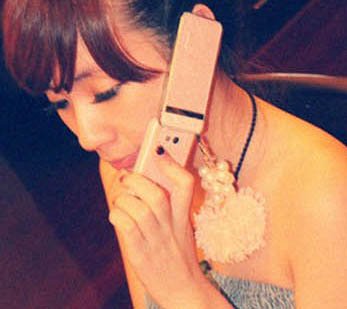 We know that koreans are very much into cute stuff so as we notice, most of their phone bling-blings are really cute.. 
Some charms were also patterned after a certain korean drama.. Usually it's a big hit.. Some were also after some kpop artist like SNSD, MBLAQ, Big Bang etc.
There's a lot online.. So, let's go shop for one? 
Jul 4, 2013 ♥ Filed under: tous les jours, tous les jours manila, TLJ korea, korea, hallyu, anything korea, korean pastry, korean bakery, korean bakery in manila, cute cakes, yummy bread, bakery korea,
Late last year, I've been looking for a korean bakery here in Manila because trust me, we've already got a korean coffee shop, korean restaurants, korean salon and korean groceries here but we haven't got a korean bakery yet so I was glad when Tous Les Jours came to Manila.
So when I first saw it my initial response was to get everything!! hahaha 
the yummy breads.. LOL my personal fave is their sweet potato bread then the red bean bread plus the white one which has cream cheese
Macaroons!! I <3 macaroons but I just hate how this breaks easily.. 
the cakes!!! The cute cakes!!! Who wouldn't love their cakes!! It's perfect for any occasion I believe? 
My personal favorite!! I'm always a fan of the simple yet elegant kind of style!!
Wanna visit them? Here's a list of their branches: (Metro Manila branches only)
SM North Edsa - The Block
SM Southmall - Food Strip
SM Mall of Asia
Ayala Alabang Town Center
Ayala Greenbelt 5
Eastwood
SM Fairview
Ayala Glorietta 5
Festival Mall - Soon to Open April 2013
SM North Edsa Annex - Soon to Open May 2013
Araneta Gateway Mall - Soon to Open May 2013
Makati Jazz Residence - Soon to Open June 2013
Enjoy!!! 
Jul 3, 2013 ♥ Filed under: my girlfriend is a nine tailed fox, my girlfriend is a gumiho, gumiho, kdramas, k-dramas, k-series, kseries, korean, hallyu, lee seung gi, romantic comedy, No Min Woo, Park Soo Jin, love, park dong joo, hoy hoy,
Name: My girlfriend is a gumiho (or My girlfriend is a nine-tailed fox)
Hangul: 내 여자친구는 구미호
Release Date: August-September 2010 (SBS Network)
Starring: Lee Seung Gi, Shin Min Ah, No Min Woo, Park Soo Jin
Genre: Romantic Comedy
Number of Episodes: 16
Plot: Cha Dae-woong (Lee Seung Gi) accidentally releases a troublesome gumiho, a legendary fox with nine tails, sealed inside a painting by Grandma Samshin (三神). Fleeing the scene, Dae-woong suffers a life-threatening fall and is only saved by the gumiho giving him her "fox bead" (여우 구슬). When Dae-woong awakes and meets a mysterious pretty girl, he initially treats her as eccentric or mentally ill, before fully understanding she is a gumiho in disguise—at which point he tries to research gumihos, but fails to find correct information in the library or on the internet. He agrees to stay with her and he tries to keep her happy, while hiding her true identity as a gumiho from all others by introducing her as his friend, Mi Ho. Slowly, however, he becomes less scared of her and more protective of her—finally admitting to himself and to her that he loves her.
As the story unfolds, Mi Ho (Shin Min Ah) pursues her goal of becoming human, with the half-human, half-supernatural Park Dong Joo, who has a career as a veterinarian and has been living as a half-human for hundreds of years, informing her that to do so, she must drink his blood and allow a human to keep her fox bead inside their body for a full 100 days - faithfully entering into a Love Contract, and keeping the bead from being harmed by remaining chaste. However, Dong Joo does not mention that at the end of the 100 days the human will die. Mi Ho and Dae Woong fall in love without fully knowing the consequences of fulfilling her goal: namely, that Woong will die if she becomes fully human. (Plot by Wikipedia)
What can I say? This is a total thumbs up for me! This show made me laugh, cry and let me know what love is. This gives you a new definition of what love is. There are also memorable quotes to ponder.. Let's not forget to mention the cute members of the cast. This show also kept me thinking like- whats gonna happen next? so yeah, basically, it excites me to go watch it right away like the moment i wake up.. The ending part was the most memorable to me. I can feel Lee Seung Gi there. haha 
Memorable quotes: "I believed that doing what the other person wanted was love. I did that, and for more than a thousand years I have regretted it. I don't want to repeat the same mistake." – Dong Joo
It doesnt matter if its another person. I needed you because I like you. I didn't like you because I needed you. I need you because you're my only love." – Mi Ho
I like you so much that now, I can't stop there. I can't pretend I don't like you, either. All I can do is not show you that I like you. All I can do is keep from begging you to like me. If I'm going to slowly distance myself from you, I think I'll have to run really hard." – Mi-Ho
It doesn't matter whether you're a ghost, a gumiho or a human. As long as you're in front of me, it's fine. As long as you're back, that's enough." – Dae Woong
What you have to watch out: The soundtrack, what happens when gumiho is mad, the reason behind the rain, little glimpse of magic and history, sweet scenes, cute male cast 
My rating: Just like City Hunter, I'm giving his a 4.8/5.. Why? Because there are some boring parts.. 
Some pictures you'd love: 
Jul 2, 2013 ♥ Filed under: city hunter, lee min ho, kdrama, kseries, park min young, lee joon hyuk, kim sang joong, korean, goo hara, hallyu, seoul,
Name: City Hunter
Hangul: (시티헌터)
Release date: May-July 2011 (SBS Network)
Starring: Lee Min Ho, Park Min Young, Lee Joon Hyuk, Kim Sang Joong, Goo Hara 
Number of Episodes: 20
Plot: In 1983, the South Korean president and his delegates are visiting Burma when a bomb planted by North Korean agents explodes, killing some high-ranking officials. This historical event is called the Rangoon bombing (also known as the Rangoon incident). To strike back, five South Korean officials plan a covert operation, codenamed "Operation Cleansweep," to enter North Korea and kill several top members of the North's high command. Lee Jin-pyo and Park Moo-yul, two Presidential Security Service bodyguards and best friends who were present at the bombing, organize a 21-man team for the mission. However, as the team wreaks havoc in Pyongyang, the five officials abort the plan to avoid an international crisis if the mission is discovered. Their major concern is that the United States will withdraw its nuclear protection if the mission is made public, in light of Seoul's official declaration that it will not retaliate.
The operation is successful, but as the troops swim out from Nampo to an ROK Navy submarine assigned for their extraction, snipers aboard the submarine open fire on them. An already injured Park sacrifices his life to save Lee. Lee swims back to shore and returns to South Korea, where he finds out that the assault team's service and personal records have been erased.
Vowing to avenge his fallen comrades, Jin-pyo kidnaps Moo-yul's infant son. He flees to the Golden Triangle to raise the child as his own and trains the boy intensively in combat. Following an attack on a village they are living in, Jin-pyo confesses his long-term plan for revenge to the child, Lee Yoon-sung.
Seven years later, after successfully finishing his college years and attaining a doctorate in the United States at the Massachusetts Institute of Technology, Yoon-sung returns to South Korea to fulfill his adoptive father's plan for revenge. He enters the Blue House as an IT expert under the National Communication Network Team. He is warned by Jin-pyo not to trust anyone and never fall in love, as doing so will put the people around him in danger.
While working at the Blue House, the plot takes off after Lee meets bodyguard Kim Na-na. Eventually Na-na helps him to take revenge, as they discover that they have the same goal in mind. Problems occur as Jin-pyo's revenge plot unfolds, especially when Lee defies his surrogate father at several occasions as they try to identify and kill the officials, known as the "Council of Five." (From Wikipedia.. Credits to Wikipedia).. 
What can i say?: I can recommend this show because it has no dull moments.. Every episode is action packed. The Lee Min Ho fans will surely love this because it shows a different Lee Min Ho.. The cast were also perfect for the show.. For me, it is also kinda unpredictable.. Oops, no spoilers! 
Memorable Quote: Don't be afraid of the shadows… because not far from you is light." – Young Joo
What you have to watch-out: fashion, gadgets, pretty girls, how to strategize, the action scenes, cute guys, how to think one step ahead and not one step behind the enemy, how to create a perfect downfall. 
 My rating: I'd say 4.8/5.. Some moves are pretty corny but sall good.. 4.8 ain't bad.. 
 Some pictures you'd love: